About Montserrat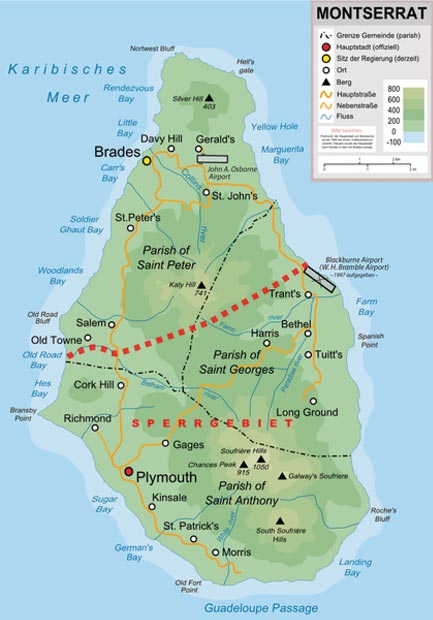 General Info
Languages
English is the official language of Montserrat, however, Dialect is spoken alot by locals.

Currency
The Eastern Caribbean Dollar is the Official Currency used on Montserrat, However the us Dollar is also a common currency used at an exchange rate of Us $1.00 = EC $2.70. The most widely accepted currencies are Us Dollars and EC ddollars, Cheques and major Credit Cards.

Drivers License
A driving permit must be obtained before driving in Montserrat. This can be obtain at the immigration department at the Air and Sea Ports at a cost of Us$20.00 and Valid for a period of 3 Months.

Banks
Most Banks are open Monday - Thursday 8am - 2pm and on Friday until 3pm. The Royal Bank of Canada could take care of all your international Transactions.

Internet and Wifi
There are internet cafes and quite a number of WIFI hot-spots throughout the island.

Driving in Montserrat
Even having an international Drivers License, In order to be able to drive legally in Montserrat you must obtain a local driving license from the immigration section at your port of entry at a cost of Us$20 or EC$50, you must present your current driving license to obtain the local permit.
Driving with Due Care and attention is paramount at all times. The Local speed limit is 30mph and 20mph in Developed areas. We drive on the Left hand side of the road, there are road signs that would help to guide you through out the country.

Gas Stations
There are Two gas stations on island, the service station attendant assist you,just indicate to them how many petrol you would like and they will assist you. The Gas stations on island are clearly shown on the map we provide to you in every vehicle.

Time Zone
Atlantic Standard time = 1 hour ahead of Eastern Standard Time.GMT-4

Telephones

Most hotels and villas offers international call out which would be at an extra cost to you, cell phones are also available with the rental of any vehicle from TipTop Enterprise upon request, you will need to put some credit on the phone and your on your way to call anywhere in the world.

Depature Taxes
Once you would have spent over 24hours in the country you would be required to pay a departure tax upon leaving, Caricom nationals would pay EC$35 and International would payEC$55.

Emergency Numbers
Police Emergency :999
Fire/Hospital Emergency :911


The Official Bird and Flower of Montserrat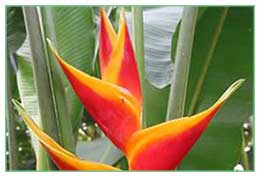 The red Heliconia is the national flower of Montserrat. It grows wild in the Silver Hills of Montserrat West Indies.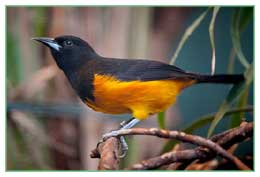 The Montserrat oriole (Icterus oberi) is a medium-sized black-and-yellow icterid found only on the volcanic island of Montserrat in the Lesser Antilles. It formerly occurred across the island's three main forested hill ranges (the Centre, Soufrière and South Soufrière hills), but volcanic activity between 1995 and 1997 destroyed two-thirds of its habitat. Since then, it has been threatened by habitat loss, and has been classified by BirdLife International as Critically Endangered, with a current estimated population of between 200 and 800.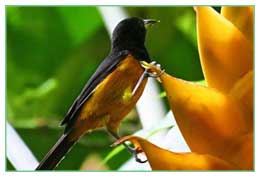 The national bird & national flower of Montserrat are related by nature.

Flag of Montserrat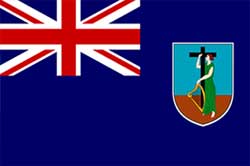 Montserrat is a territory of the United Kingdom. The overall setting of the flag is blue in color which symbolizes awareness, trustworthiness, determination and righteousness. The British Union Jack is present on the upper left section of the flag, known as Canton.
The Montserratian emblem is located on the right half of the Montserrat Flag , which represents Erin, the sign of independence for Ireland.

The symbol on the Montserrat Flag shows a woman standing very close to a yellow harp embracing a black cross. To show respect to the earlier European settlers the Montserrat flag bears the shamrock as its insignia.

Montserrat News & Links
Fly Montserrat
Montserrat Volcano Observatory
Visit Montserrat
AQUA Montserrat
Sea Wolf Diving School
Montserrat Reporter
Music for Montserrat
Radio Montserrat
George Martin's Air Studios
Montserrat Stamp Bureau
Montserrat Villa Rental

Montserrat is the Caribbean's best kept secret. A truly unique, unspoiled, piece of heaven. Where else can you visit an active volcano, scuba, hike the rain forest, enjoy a stroll on an uncrowded beach, or just relax by a fresh water pool overlooking the Caribbean sea?

With scheduled flights from St. Maarten and Antigua to Montserrat it's easier than ever to visit Montserrat, the Eden called the Emerald Isle of the Caribbean.

Pay securely with any major credit card!




Rentals | About Us | Testimonials | Trucking | FAQ | Montserrat
Where to Eat | Villas | Reservations | Contact | Home